From 14 – 17 May 2019, texprocess will once again take place parallel to techtextil in Frankfurt. We will be there again – this time with an innovation!
World of Digital Fashion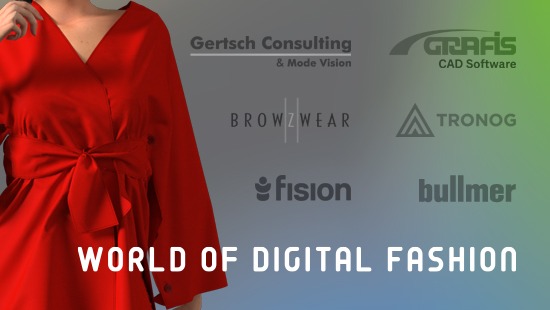 Together with five other companies from the fields of CAD, visualization, automatic body measurement and cutting, we present the "World of Digital Fashion" to you.
In hall 4.0 booth F23 we will show you the integration and combination possibilities of our products in different workflows. The focus will be on customizing clothing and fashion.
For further information please contact us at:
(at)
Visit our partners:
World of Digital Fashion [Customize, Modular, Sustainable]
Digitalization, Industry 4.0. Customization, visualization and sustainability are currently the top priorities in many agendas of companies in the apparel and fashion industry. Under the term "World of Digital Fashion", six companies have now come together at Texprocess 2019 to demonstrate the integration and combination possibilities of their products in various workflows within the value-added chain at a joint stand and thus to demonstrate the digitization processes to customers and interested parties.
The clothing and fashion industry will undergo an enormous structural change in the coming years. New concepts will be introduced in order to produce more sustainably on the one hand and to consume more consciously on the other. The focus will be on configurators that allow customers to act as co-designers and order their clothing according to their wishes, requirements and body-measurements. Such a customization of clothing means, however, that corresponding processes have to be digitized and many technology components have to be interlinked in an interdisciplinary way.
Bundled competencies For this reason, the 6 companies from the areas of visualization, CAD cutting system, automatic body mass determination as well as cutting and process automation came together to demonstrate this digital process chain live for an industry 4.0 at the next Texprocess from 14-17 Mai 2019 in Frankfurt. In detail these are the companies Browzwear Solutions Pte Ltd. from SG-Singapore as well as the company Tronog d.o.o. from SI-Ljubliana in the area of visualization, the software Dr. K. Friedrich Gbr. from DE-Viersen with the CAD system GRAFIS®, the company Fision AG from CH-Zürich for automatic body measurement, Bullmer GMbH from DE-Mehrstetten for innovative cutting solutions as well as Gertsch Consulting and Mode Vision with the product "pod – Pattern on Demand®" for process automation.
World of Digital Fashion Under this term, the 6 companies will present their products and services in different workflow scenarios from the E-Commerce until the cutting process at a joint stand in Hall 4, Booth F23. The subtitle [Customize, Modular, Sustainable] is intended to indicate that they would like to discuss the exciting topic of customizing clothing & fashion from various points of view with customers and interested parties. The attending specialist partners guarantee that the individual modules can be combined modularly to support sustainable action on the market and in production.